See original article: Will electric cars power homes? Energy bosses will drain vehicles' batteries in pilot scheme to counteract times of high or low supply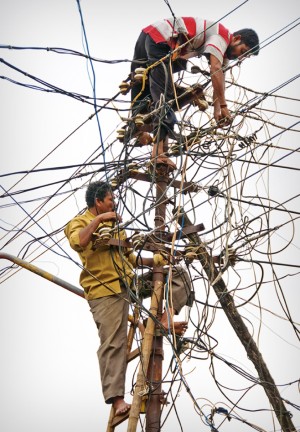 Hijack­ing pow­er is real­ly easy and real­ly dan­ger­ous: Get some wire; attach a hook to one end; climb up a pole and drop the hook on a live pow­er line.
If you sur­vive, con­grats! Now you have elec­tric­i­ty and you don't have to wor­ry about pay­ing for it!
(You do need to wor­ry about you or a loved one get­ting killed by an improp­er­ly ground­ed appli­ance, elec­tri­cal fires, explod­ing trans­form­ers or oth­er cat­a­stro­phes, but still.)
Long sto­ry short, pow­er theft in devel­op­ing coun­tries is a huge prob­lem, which is why Britain's Nation­al Grid just launched a pilot pro­gram to steal pow­er from elec­tric cars.
No real­ly.
If your elec­tric car's plugged in in your garage, Nation­al Grid can stop charg­ing it and instead drain it to boost the grid when sup­plies are low.
Why are they both­er­ing with a tri­al pro­gram? They need to see if it will work, of course, but do they think their cus­tomers are going to enjoy dis­cov­er­ing Nation­al Grid siphoned their car dry when it's time to go to work?